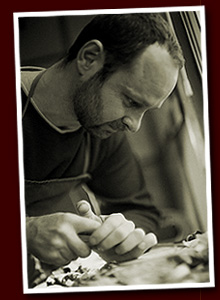 František Kůs was born on 14.05.1965 in Ostrov nad Ohří. He completed his apprenticeship in Luby u Chebu in 1992 under Masters Čech, Lupač, Zadražil and Pötzl. Since then he has been working independently in his own workshop, improving his knowledge and skills constantly. In 1998 he worked in the workshop of the top Polish violin maker Tadeusz Slodyczka and in 1999 he passed his approval examination at Přemysl Otakar Špidlen's studio and was admitted to the Violin-Makers' Artists' and Musicologists' Circle.
In 2000 he came to Jan and Přemysl O. Špidlen's studio in Prague where he worked for three years as a conservator of stringed instruments. This is also where he acquired the best knowledge and craftsmanship which he has been further developing. The instruments made by him are of top quality, both as to their sound and artistic measure and they are popular for their warm, rich tone and because they are easy to play.
He is the Honorary Freeman of the town of Ostrov. Being an active musician with the bands Hary Phill Band and Swing Studio Karlovy Vary, he has played both in our country and abroad (Germany, USA, Sweden). He has recorded a few CD´s with these bands, whereas others as a soloist.
He now devotes himself predominantly to making new instruments. He makes violins, violas, but among others he has also made two resophonic guitars (Dobro) and two guitars.
František Kůs interview published in Ostrovský měsíčník (February 2007).
František Kůs interview published in Hudební Rozhledy (June 2008).
Participation in international competitions: